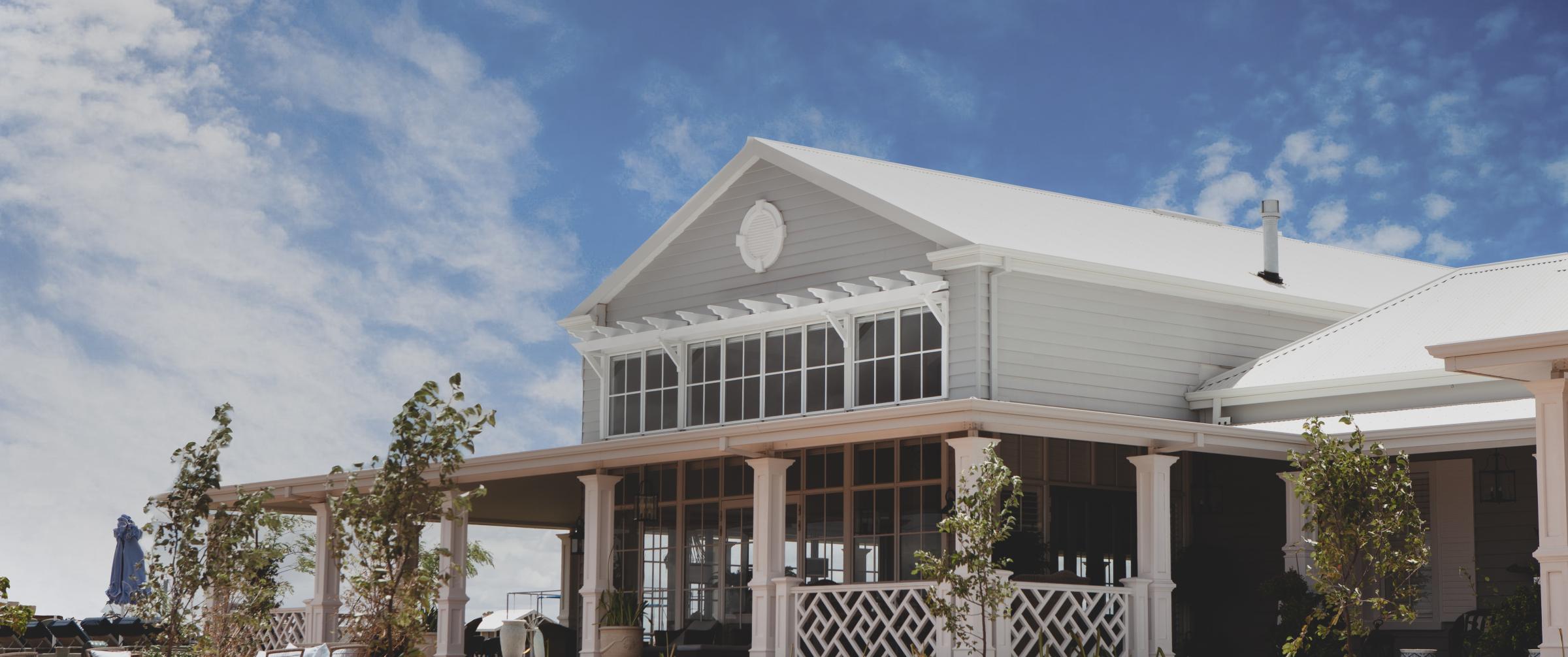 'Hamptons Farmhouse' by Indah Island Interior Designers
WA-based Indah Island was founded by Interior Designer and media personality Natalee Bowen, who specialises in the 'Hamptons Style'. This style originates from homes built in a group of townships on Long Island, New York and is defined by classic and sophisticated meets rustic, casual beach vibes. This recently completed farmhouse was a team effort for Natalee and her husband Mark Bowen, who oversaw the construction of the build and managed all trades. 
The original farmhouse was built in the 1860's by Mark's fifth-generation grandfather and has been in his family ever since. When the opportunity to purchase the property arose, Natalee and Mark jumped at the chance to keep it in the family. The initial plan was to fix up the original house and keep it as it a weekender for their family. However, when it was revealed that parts of the original home were in derelict shape, they instead decided to salvage what they could of the original home and to add on two new wings to either side. The project then expanded some more to become a showcase home for their business. 
The massive home features a roof made from COLORBOND® steel Matt in the colour Surfmist®. "The roof material selection was an easy choice" said Natalee. "I went with COLORBOND® steel and decided on a traditional corrugated profile for the roof to pay homage to the original farmhouse." 
The shape of the roof was key to achieving an authentic Hamptons look. Says Natalee, "We chose to do a gable style roof at the front of the build for both the north and south wings. This enabled us to do a decorative detail vent at the front of the property to engage a more Hamptons look. We don't have eaves, however the wrap-around veranda creates a layer that screams Australian Hampton's living". 
When selecting the colour palette Natalee wanted to make sure to include the right elements for a Hamptons look but within an Australian farm setting. To achieve this she selected a palette of soft grey for the home and to make all the white details stand out. 
Says Natalee, "Creating this look I wanted to make sure I was being true not only to the style of home being on a farm, but also the scale and grandeur of the Hamptons look. Using COLORBOND® steel Matt in the colour Surfmist® in a traditional corrugated profile enhanced all of the other layered details. The roof is the first thing you see on driving up to the property and it creates an excitement of what's to see inside. With its scale and beautiful detail it is immediately recognisable that the inside of the home will be as beautiful as the outside."
Construction of Hamptons Farmhouse is now complete, and Natalee and Mark could not be happier with the result. Said Natalee, "We loved working with  COLORBOND® steel Matt - it was easy to install, and it looks fabulous. It is a testament to the build and an ode to the past of where our little homestead started."