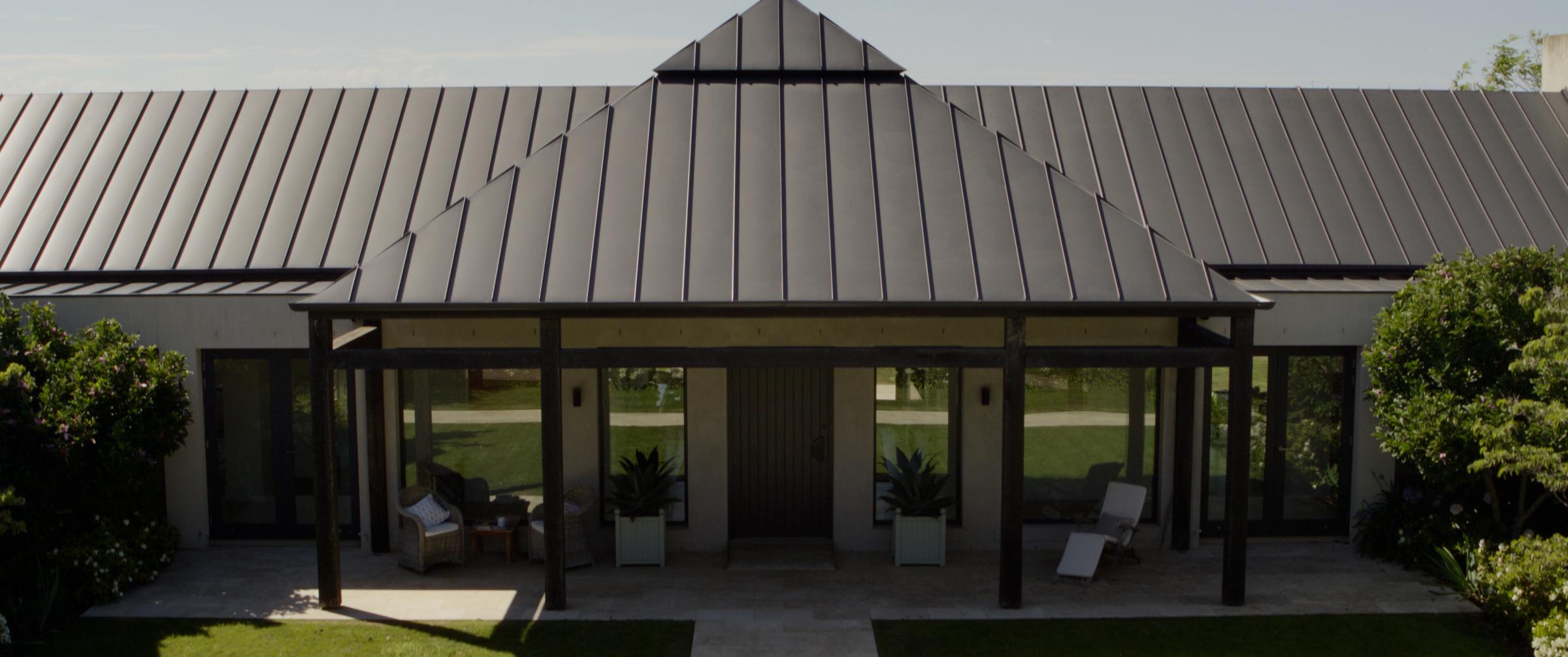 When reflecting on Reid House, it's difficult not to feel a little twinge of house envy. Built in 2014, this home on the Mornington Peninsula is a modern interpretation of a classic Georgian homestead - one of my favourite architectural styles! The hallmarks of restrained elegance, quality materials and traditional shapes are hard not to admire.
Breezeways, corridors and a stunning and expansive roofline link what would have once been a series of disconnected outbuildings and barns. Although its inspiration is from a time gone by, this sprawling homestead sits comfortably in the modern landscape through its clever layout and standing seam style COLORBOND® steel roof.
The timeless black and white exterior colour palette reminds me of the importance of roof choice. Fabricated on site in COLORBOND® steel Monument®, this roof really does steal the show. It's a well-placed reminder that the roof is one of your home's largest surfaces and taking the time to think about the exterior palette and how it will contribute to the overall look and feel of your facade is time very well spent.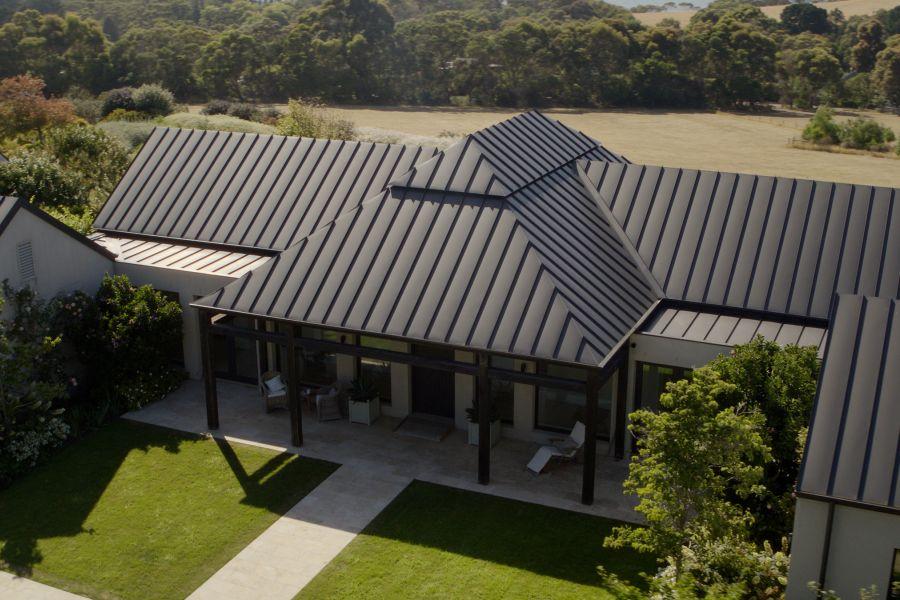 A recognisable feature of Georgian architecture is its simplicity and formal symmetry. In line with these principles, this roof is pleasingly devoid of flashings and eaves and has no exposed fixings. Its remarkable repeated folds are like the rhythmic pleating of spanned wings with just the right amount of detail to bring the architecture to life.
Just as the surrounding vegetation cools the local landscape, the Thermatech® technology* in the COLORBOND® steel can also help reduce the roof's temperature by reflecting more of the sun's heat on hot, sunny days. The design also balances the dark roof choice with light walls, which play their own role in deflecting sunlight and heat.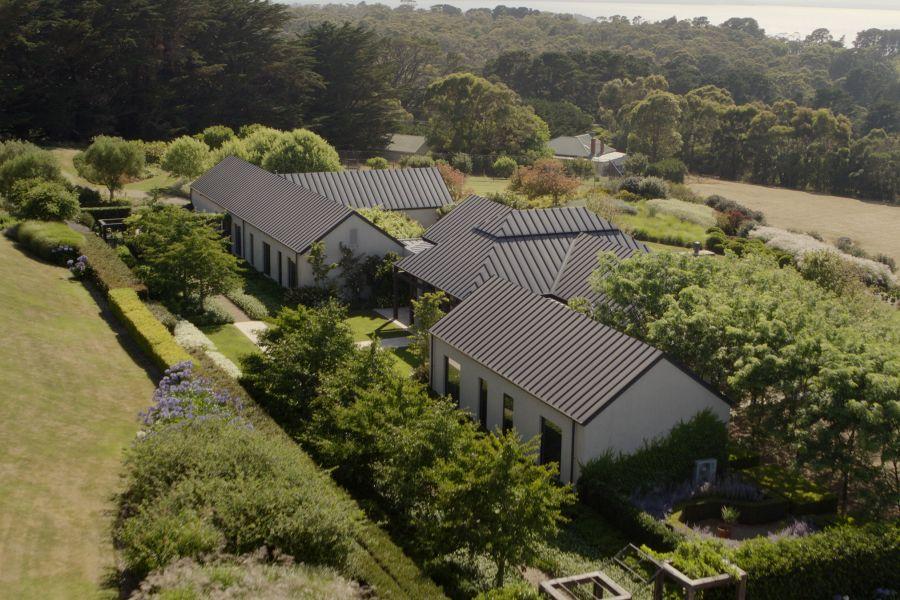 The house is sited part way up a low-lying hill, providing an enhanced vantage point for the sea views. The lines between homestead, formal gardens, wild landscape, and extended seascape are beautifully framed through large windows which celebrate the environment. Being an elevated site, the exposure to strong southerly winds and storms coming in from Bass Strait show that strength and durability are key; easy to maintain and proven in Australia's harsh climate, COLORBOND® steel is the ideal choice for the Mornington Peninsula.
It's easy to daydream about sitting under the dark pergola in the formal gardens whilst soaking up the idyllic coastal countryside, which is celebrated through this home's prized location. A mix of formal gardens and looser, more natural landscaping encourages a blending with the surrounds, while the elegant black and white palette helps realise a refined and timeless home with a deep revere for its location.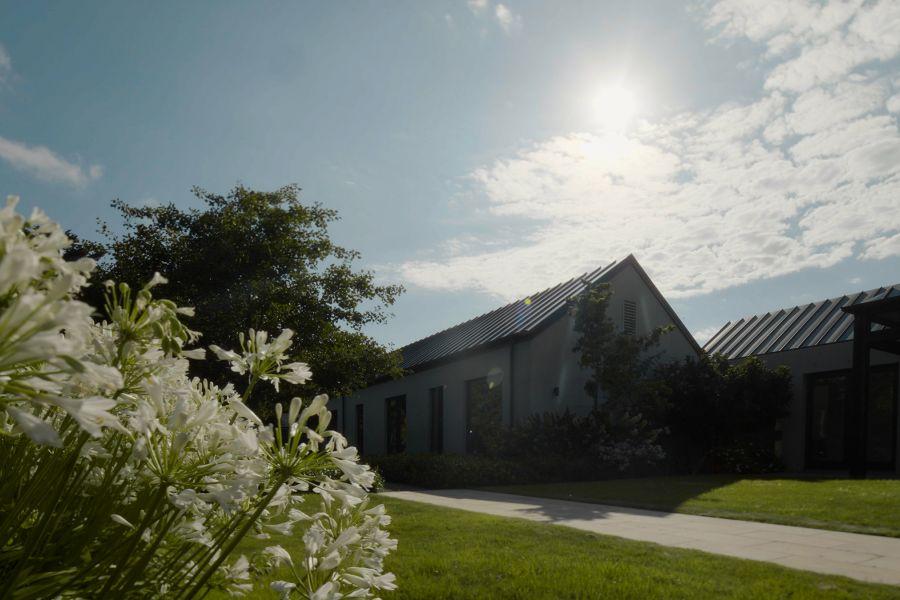 The materials selected for Reid House reflect the same outstanding long-life performance and ageless grace of the design itself. Strong, durable and well made, this home has the presence of a building poised to live on. It feels like we could visit again in decades to come, and it would still be standing as though no time had passed at all.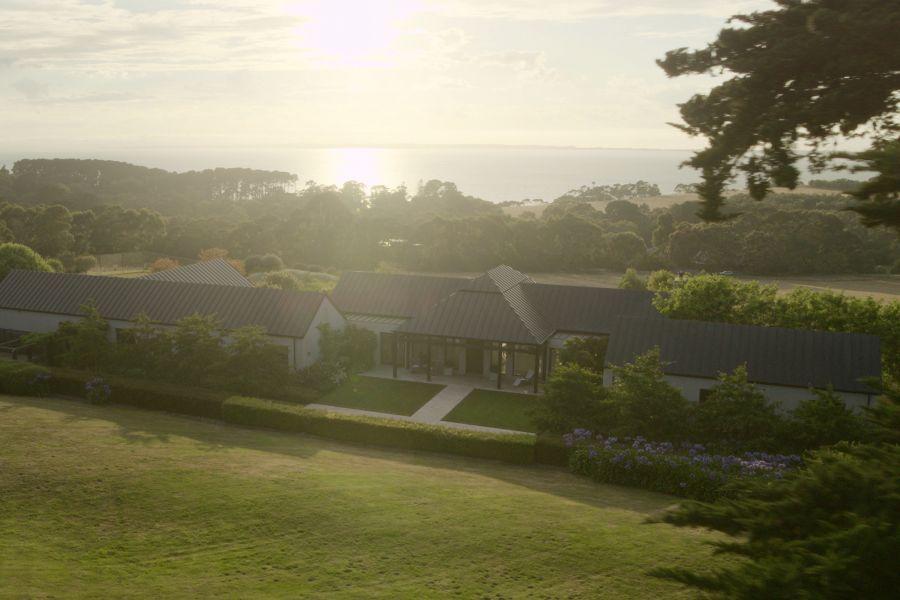 Explore more from the Inspired Series