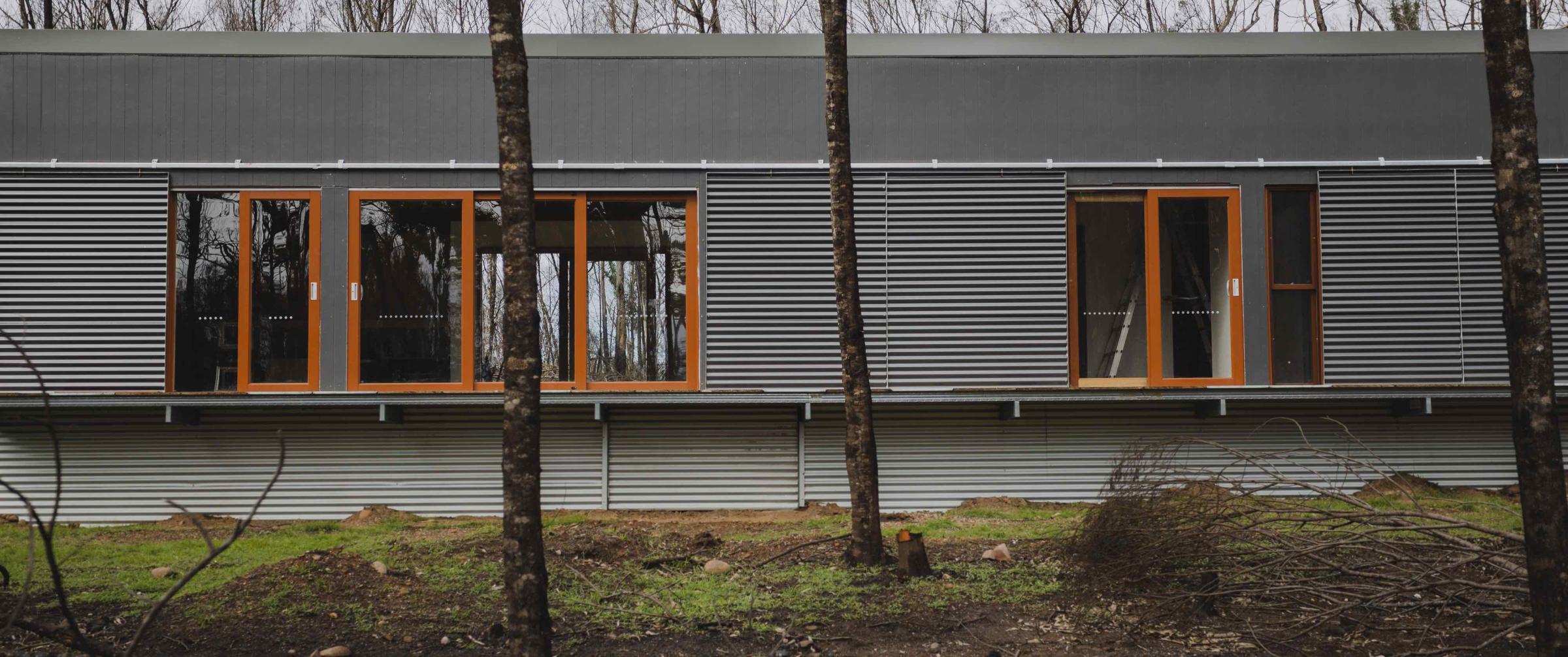 The house that withstood a bushfire
Canberra-based architect Alastair Falconer purchased a remote acreage west of Batemans Bay as a weekend retreat for his family. Referring to it as a "permission to dream space", each of his six children have their own projects at the property that range from creating their own engineering workshop to a space to learn archery and kayaking. 
Despair struck on New Year's Eve, 2019 when the fires that swept through the NSW South Coast severely burnt the property. Says Mr Falconer of the fire, "It approached the house through the ridges as a canopy fire, and the wind must have been ferocious, leaving the few remaining casuarina stumps bent right over. The house itself was surrounded by an intense fire front". He continued, "The crown fire moved right around and over the house with prolonged burn conditions after the fire front. The larger tree trunks around the house burnt to fine ash."
Amazingly, key design and construction decisions, and the material selections made by Mr Falconer to resist ember attacks as well as direct impact from fire, left the house practically unscathed. Said Mr Falconer of the result, "Many friends congratulated us on this incredible outcome, but to us it was not a question of luck. When we started building our off-grid house, exactly 12 months earlier, fire was our biggest consideration." 
When the Falconer family bought the property five years ago it had not been lived at for over 100 years. They read about the massive fires in 1905 that had burnt many houses in the area to the ground - including the original homestead on their property that was never rebuilt. Therefore, it was a priority for Mr Falconer to design a home that could potentially withstand the force of a bushfire.
Mr Falconer also designed the house to be built quickly – using readily available, cost competitive materials such as 9mm fibre cement sheet cladding, framing made from TRUECORE® steel, COLORBOND® steel cladding, roofing, fire shutters and flashing, and hardwood window frames and doors. To protect the windows and doors, they used sliding door panels - using a ratio of window-to-wall that would allow them to install fire shutters made from COLORBOND® steel, fixed to welded steel frames on a galvanised sliding track system. By doing this, it meant that the shutters could be slid open over the walls when not in use, yet with the shutters closed the house could withstand strong winds without opening gaps to let fire through.  
Construction on the holiday home started in October 2018, and though they were expecting a bushfire to come through at some point in their lives, they did not imagine it to be so soon. A year into construction, they  perceived the imminent threat, and re-worked the building sequence to have the house fire-ready by the beginning of Summer. The last small tasks of fire-readiness preparation were completed just 3-days before the fires came through and Mr Falconer and his family did not hang around. 
Once they were able to access the property again in the new year, Mr Falconer was relieved to see that his design held true. The property experienced intense fire but the house survived. A friend of his who has extensive experience with bushfires commented that "I've never seen such an intense and extensive burn". 
Of the selection of COLORBOND® steel for his house Mr Falconer acknowledged that there was a great balance between both the functional properties of the material and the low ongoing maintenance required. "Having pre-cut COLORBOND® steel sheets that were millimetre perfect was great for fitting in pre-welded frames. It sped up the process hugely, being able to slot these and gave us a perfect fit every time. Plus, it certainly got us out of a tight spot fitting off these fire shutters. Also, aesthetically and functionally, COLORBOND® steel provides an attractive finish, that is low maintenance and has exceptional qualities."
Mr Falconer acknowledges that he and his family have a long journey ahead supporting their land to regenerate and finishing up the construction of the house. He is pleased to share his experience with building a house that successfully survived an intense bushfire, and did so with a cost effective, fast-to-construct and reasonably open design.