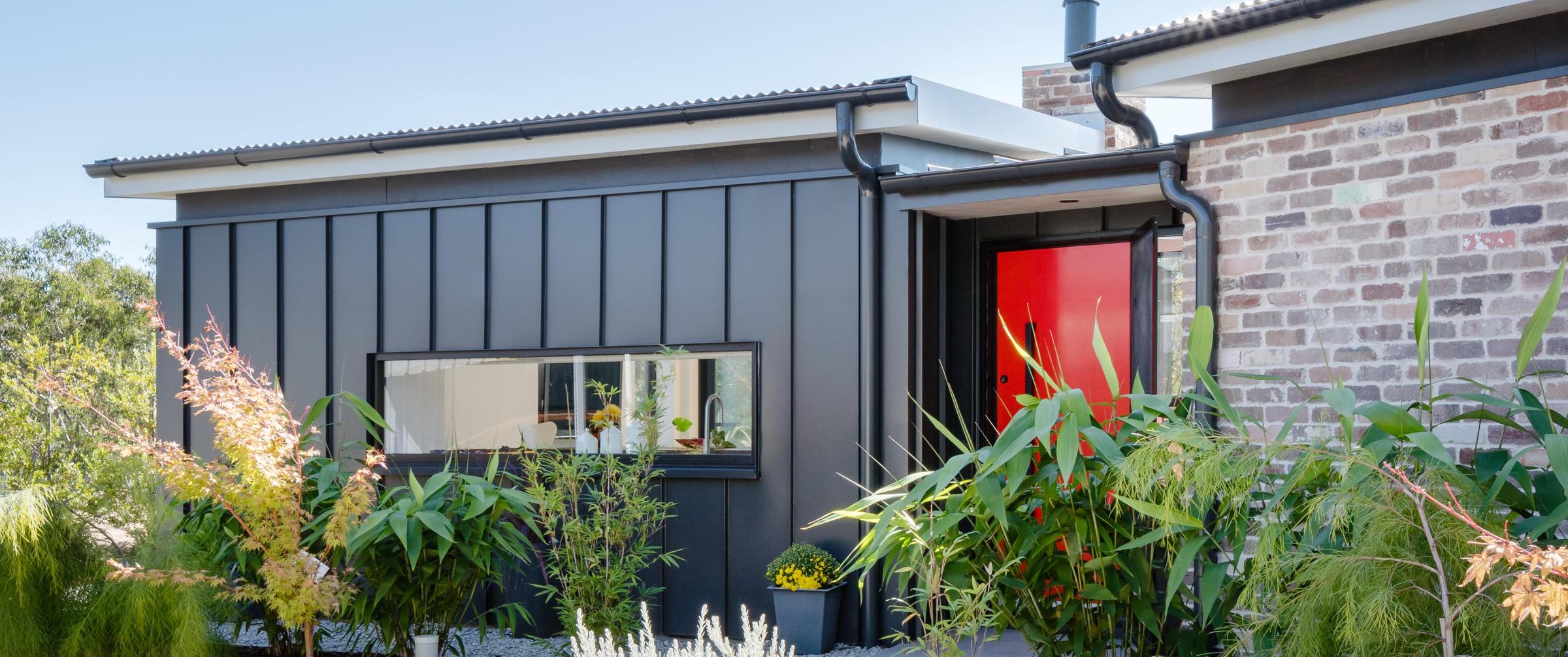 Tips to consider when selecting complementary exterior schemes
Darren Palmer shares his advice on what to consider when selecting your exterior colour and materials. Options for exterior finishes are endless and carry a great weight in determining the street appeal of your house. He discusses a variety of material options, how to complement or contrast different colour palettes and textures, and gives us a guide for how lines and direction can greatly influence how large or small your home appears.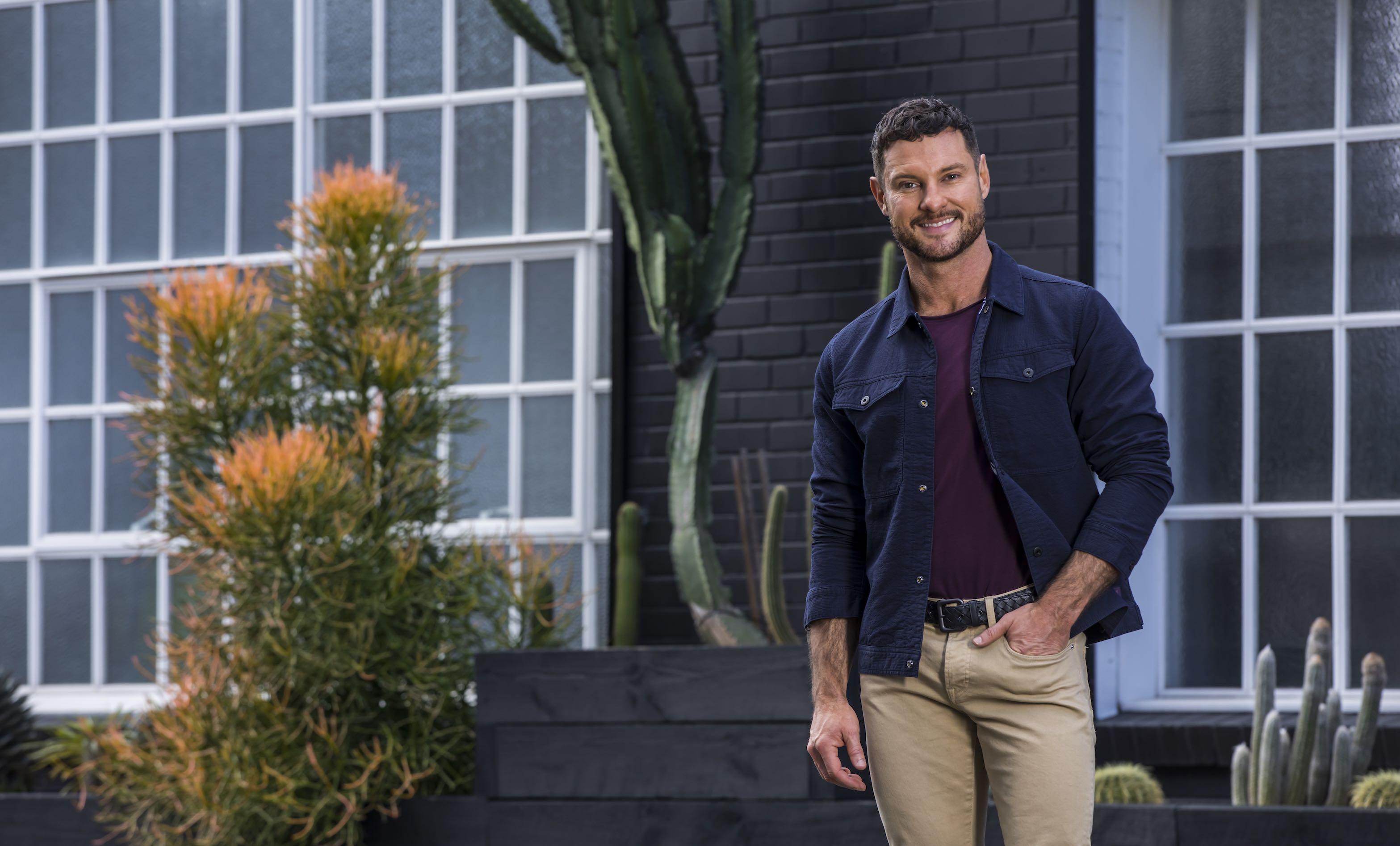 By Darren Palmer
These days, there's a wide variety of exterior cladding materials available and the combinations that you choose will have far reaching effects on your home's appearance. Aside from working to a period or style, and blending in or standing out from the surrounding landscape, the colours, profiles and materials you use to create the exterior of your property can have both expected and unexpected benefits.
One fundamental consideration is the way in which you can alter the perception of the shape of a surface by changing the direction of the material you place on it. For example, inside a home, a VJ or shiplap panel running vertically will elongate a wall, making it appear taller. The same is true outside; using wall cladding made from COLORBOND® steel in standing seam style profiles can also create that long and highly attractive vertical line, and enhance the sense of height in the wall. This style of profile was used on Middle Park Residence by Baldasso Cortez Architects (pictured below). The standing seam style profile, combined with the strong, dark colour elongates the 2nd storey of the addition to give the impression of sky-high ceilings and oversized spaces.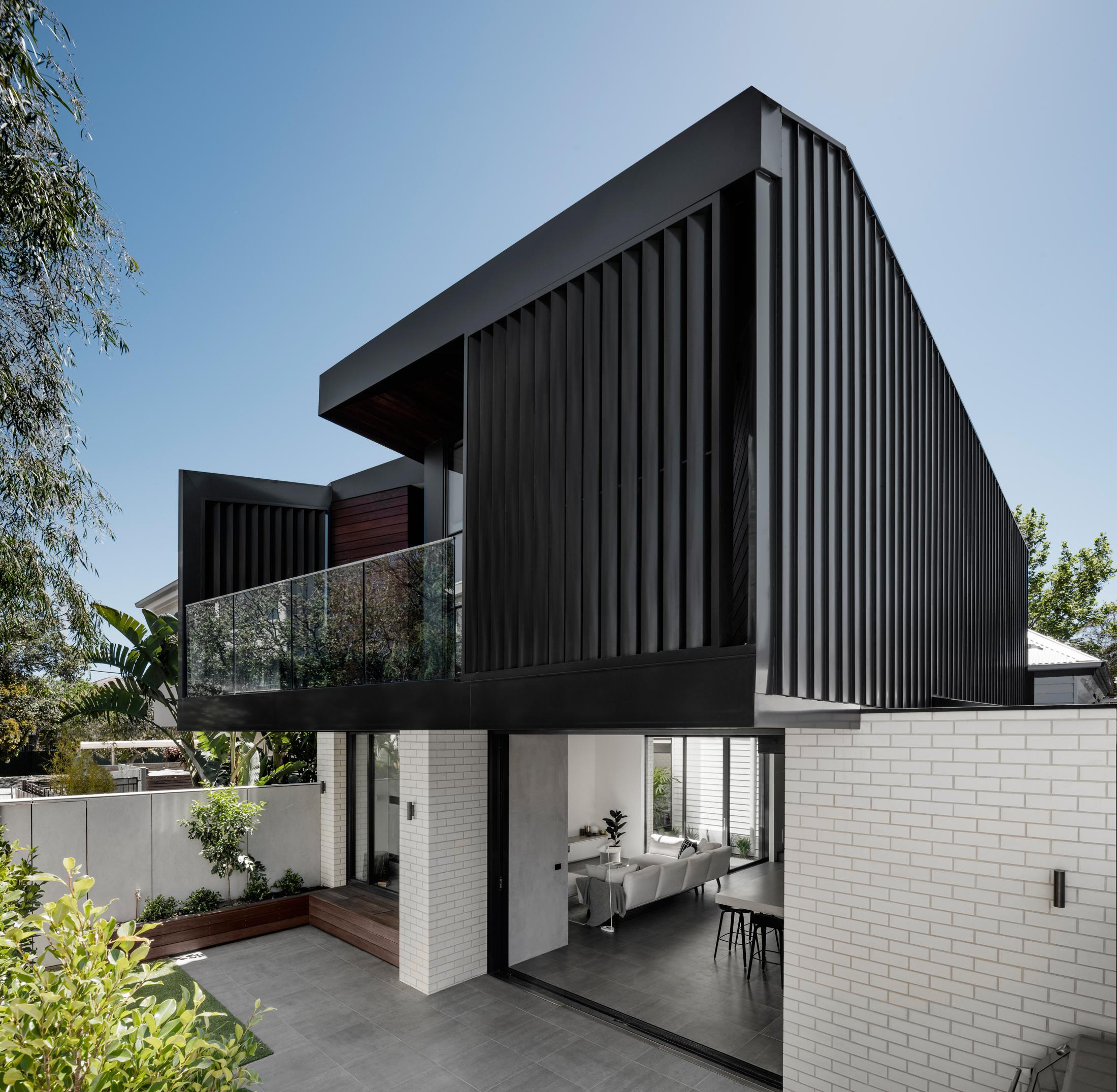 CAPTION: COLORBOND® steel cladding in Monument®
Brickwork is generally placed in a horizontal pattern; the longer the brick, the longer the line, which gives the appearance of pushing corners apart for a wider wall. The effect is enhanced with cladding such as weatherboard also laid in a horizontal pattern. Both traditional corrugated and standing seam steel profiles will also give you a linear look and can be used in various ways on different types of houses to create this wider walled look. But first understand that the direction and accentuation of a linear cladding will change the perception of the proportion of the wall it's applied to, so choose the type and the direction you run it with this in mind.
You also can play with the effect of layering materials and directions to achieve different results. Barn-like or small houses with pitched roofs can look amazing with a roof and wall clad in COLORBOND® steel standing seam style profiles, tying in seamlessly with discrete or concealed guttering to create a slick and contemporary appearance that reinterprets those archetypal house shapes and enhances their geometry. Depending on the result you're going for, you may want to choose light colours such as COLORBOND® steel Surfmist®, Shale Grey™ and Dune® to work with the softer palettes of earthy finishes, or take up stronger, darker tones such as COLORBOND® steel Woodland Grey®, Ironstone®, Monument® or Basalt® for a more dramatic look.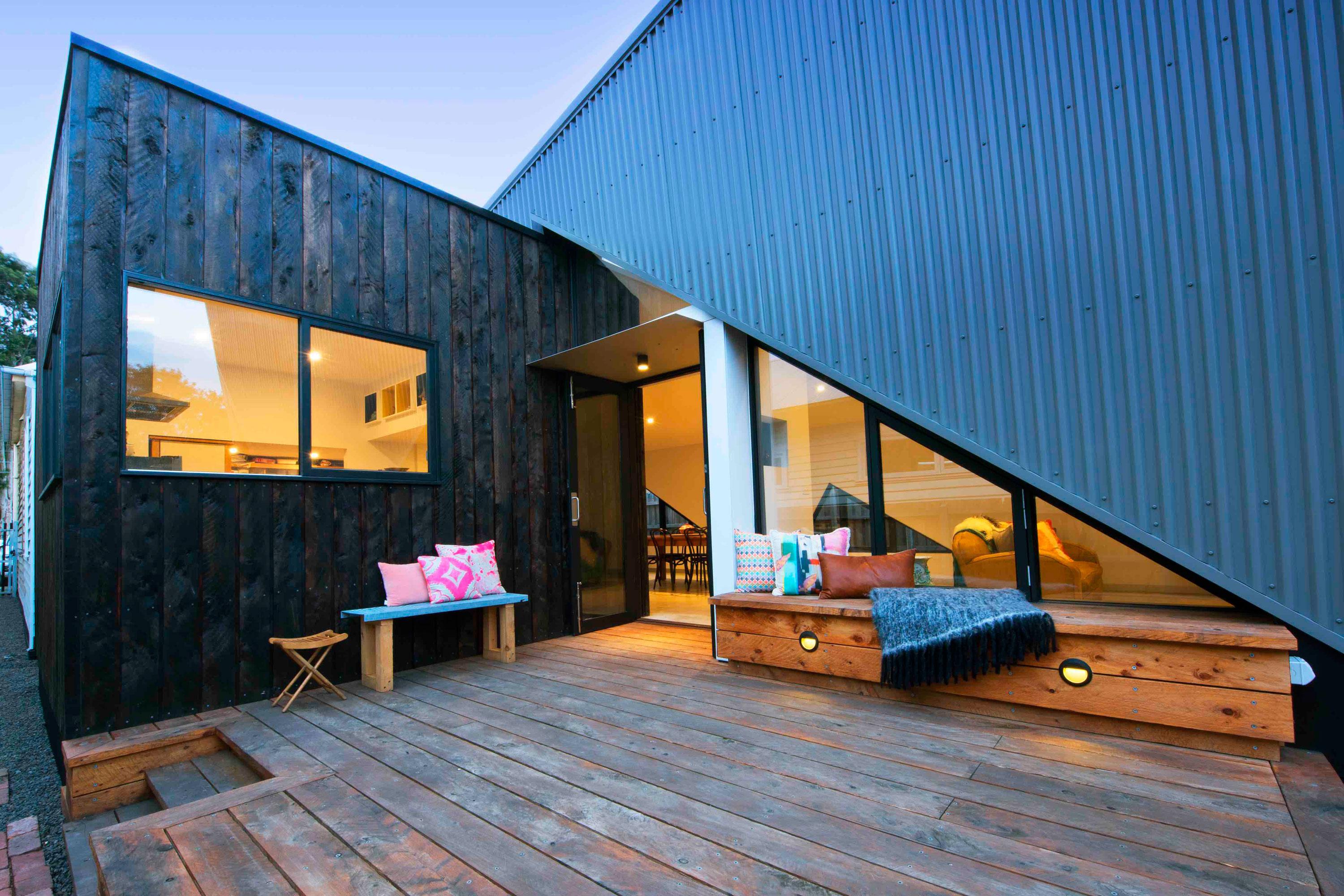 CAPTION: COLORBOND® steel cladding in Wallaby®
You could also consider using a similar colour across your exterior scheme and incorporating different and contrasting materials to make it more interesting. Arrow House by Mark Lam Architect (pictured above), is an example of how you can create a textured contrast with the same colouring by pairing an organic material such as charred timber with COLORBOND® steel cladding in the colour Wallaby® .
Of course, your choices for exterior cladding aren't limitless. Broadly speaking, you have several categories including COLORBOND® steel, manufactured panels and boards, painted, stained or treated timber, glass, and brickwork. What combinations you use and the ways you use them together, however, opens up nearly limitless options and resulting effects.
Natural timber battening can look spectacular contrasted against a dark cladding in COLORBOND® steel standing seam style profiles; the vertical lines of both tying the look together beautifully but also adding a striking architectural quality to contemporary or industrial style homes.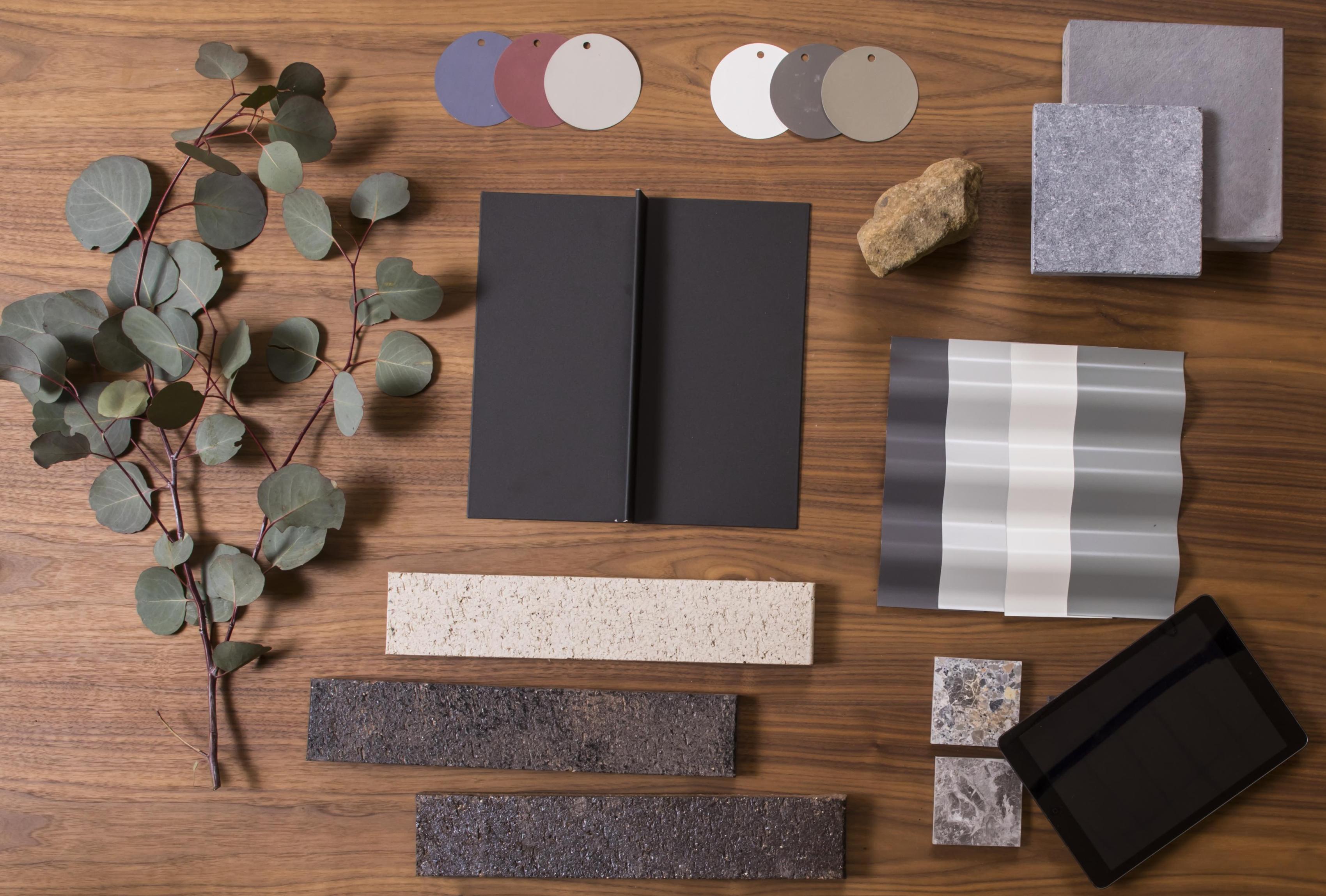 CAPTION: Layering pieces together will help you make the final decision
The mood board (pictured above) is a beautiful example of how a timber finish can be combined with a dark standing seam style profile and other earthy textures and colours to create a sophisticated, industrial style home that is also warm and inviting.
The mood board above is a beautiful example of utilizing layering of the materials to build your palette – the strength of the cladding choice of a dark standing seam profile with the addition of the matt textured bricks, stone and charred timbers in equally strong complimentary colours. The visual of these elements laid out, create a bold earthy industrial scheme which in turn would make a strong architectural statement.
Brickwork and cladding in COLORBOND® steel paired together are the perfect union for creating an industrial or warehouse look, or to truly elevate a very traditional home when adding a contemporary addition. The play of colour and the repeated smaller pattern of brick contrasts very well against the large expanses of consistent colour and line provide by the use of wall cladding made from COLORBOND® steel, irrespective of its profile or colour. Fundamental House by Sandbox Studio (pictured below), features a COLORBOND® steel and brickwork combination to give the home a strong industrial scheme, and the deeper earthy colours selected for each material also tie it beautifully to the landscape.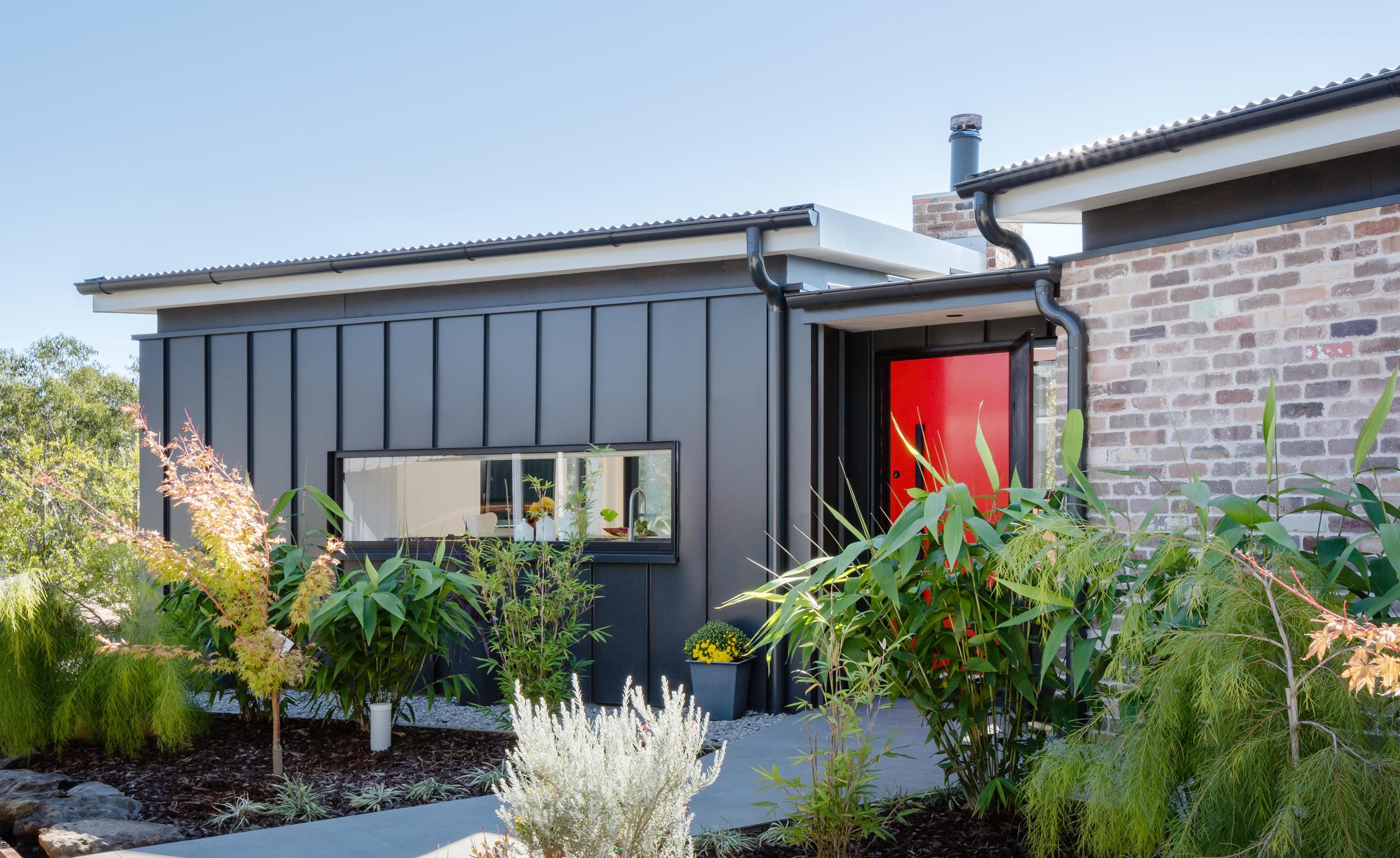 CAPTION: COLORBOND® steel cladding in Basalt®
In more traditional settings, weatherboard looks perfectly united with bullnose roofs, awnings and rooftops in a corrugated profile made from COLORBOND® steel. White weatherboards and a corrugated profile in a mid-grey such as COLORBOND® steel Basalt®, Windspray® or Wallaby® is a match made in heaven, as is mid to dark grey weatherboard complemented by steel details also in the mid to dark greys of COLORBOND® steel Woodland Grey® or Monument®. You can also achieve striking contrasts in monochromatic exterior palettes such as these by drawing out timber details, eaves and architraves in white or black to give a perfect level of cut through, freshness or moodiness to your home.
In more modern homes, with potentially more architect-driven rooflines, you can achieve wonderful effects by changing the direction of a linear roof profile to create a sense of movement and dynamism in the external appearance. These effects can be used to draw your eye in deliberate directions around the façade or exterior of the house.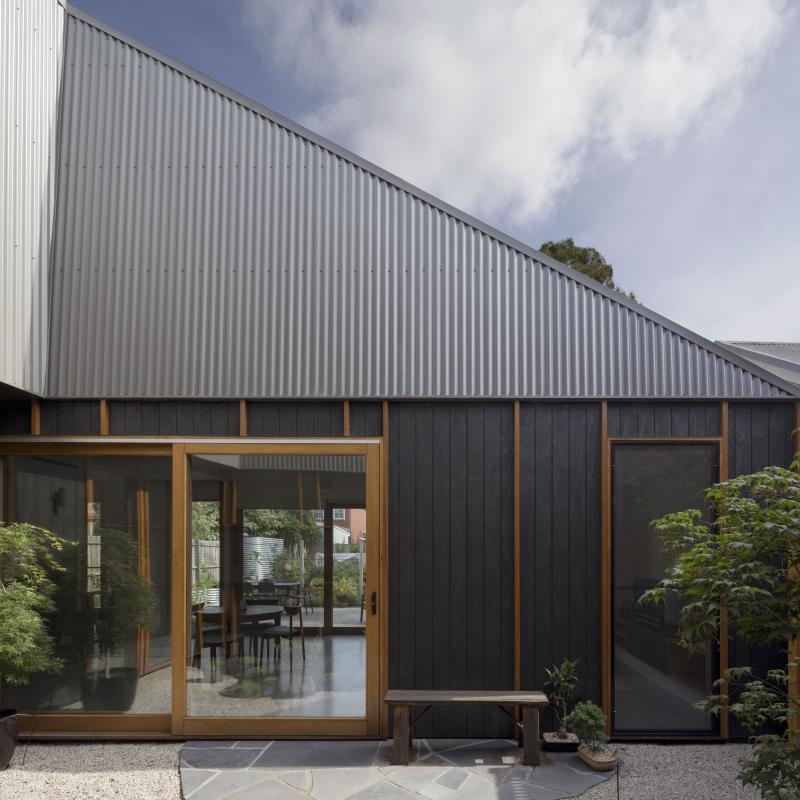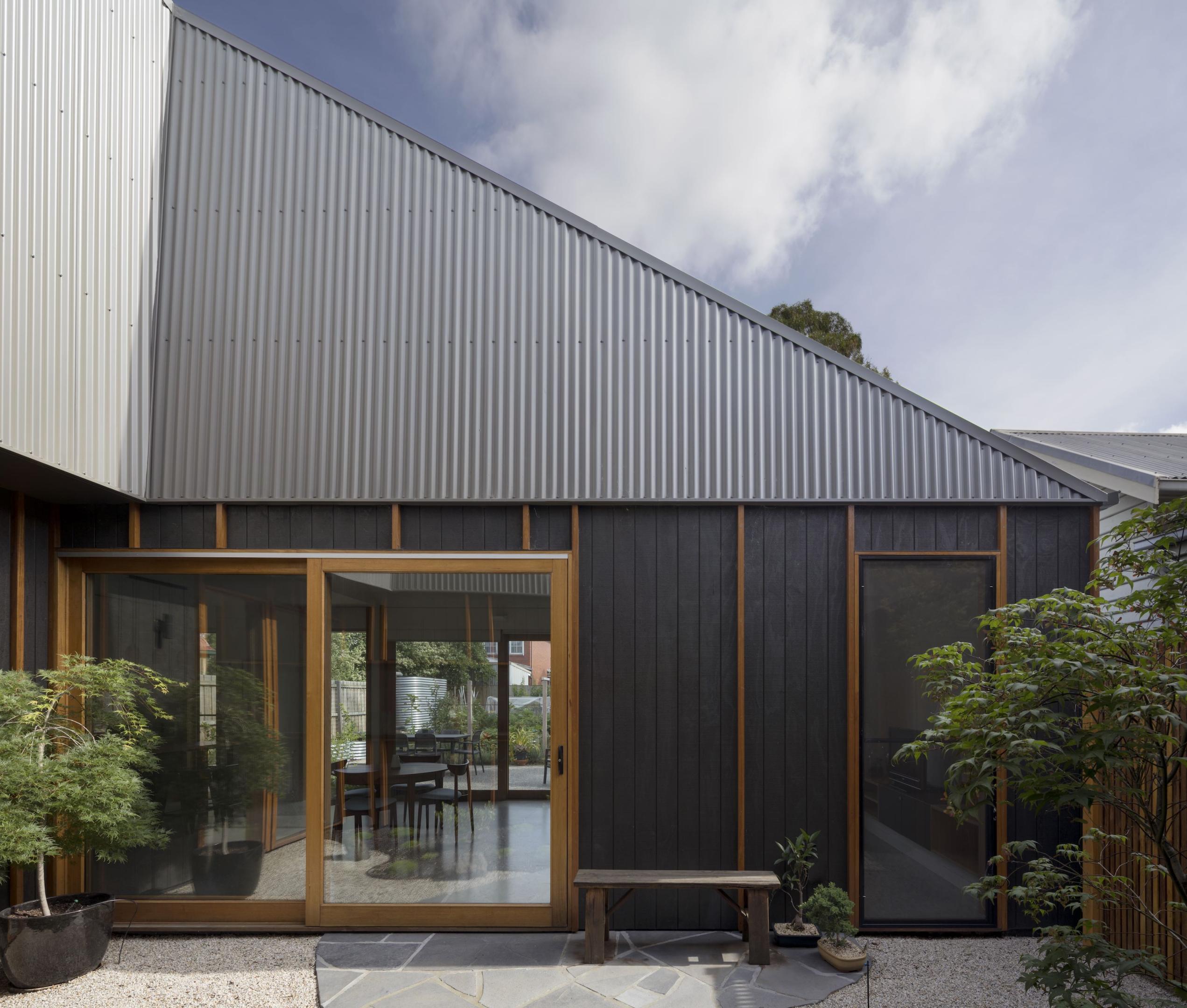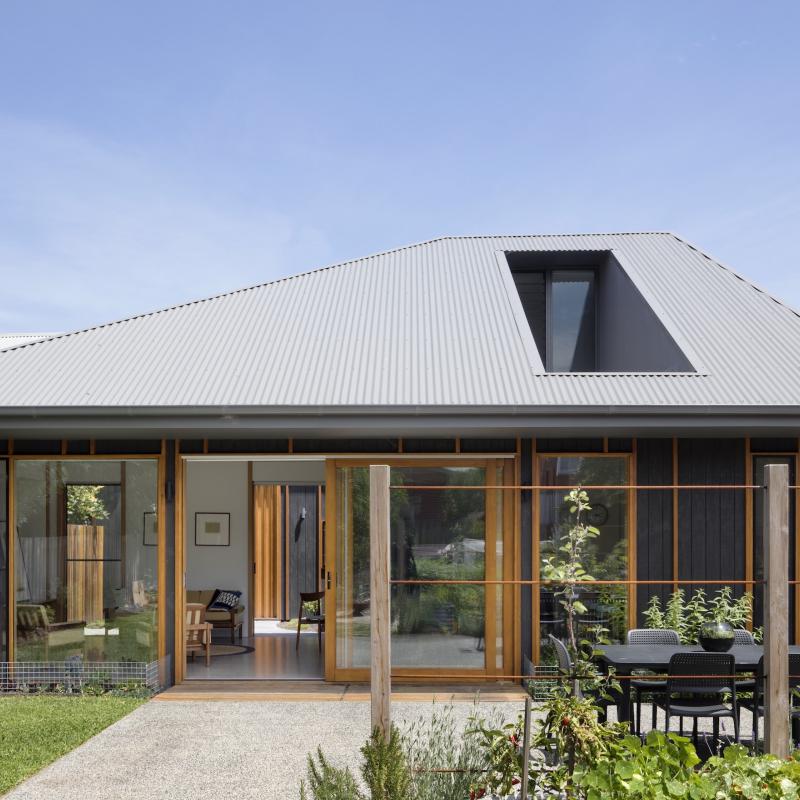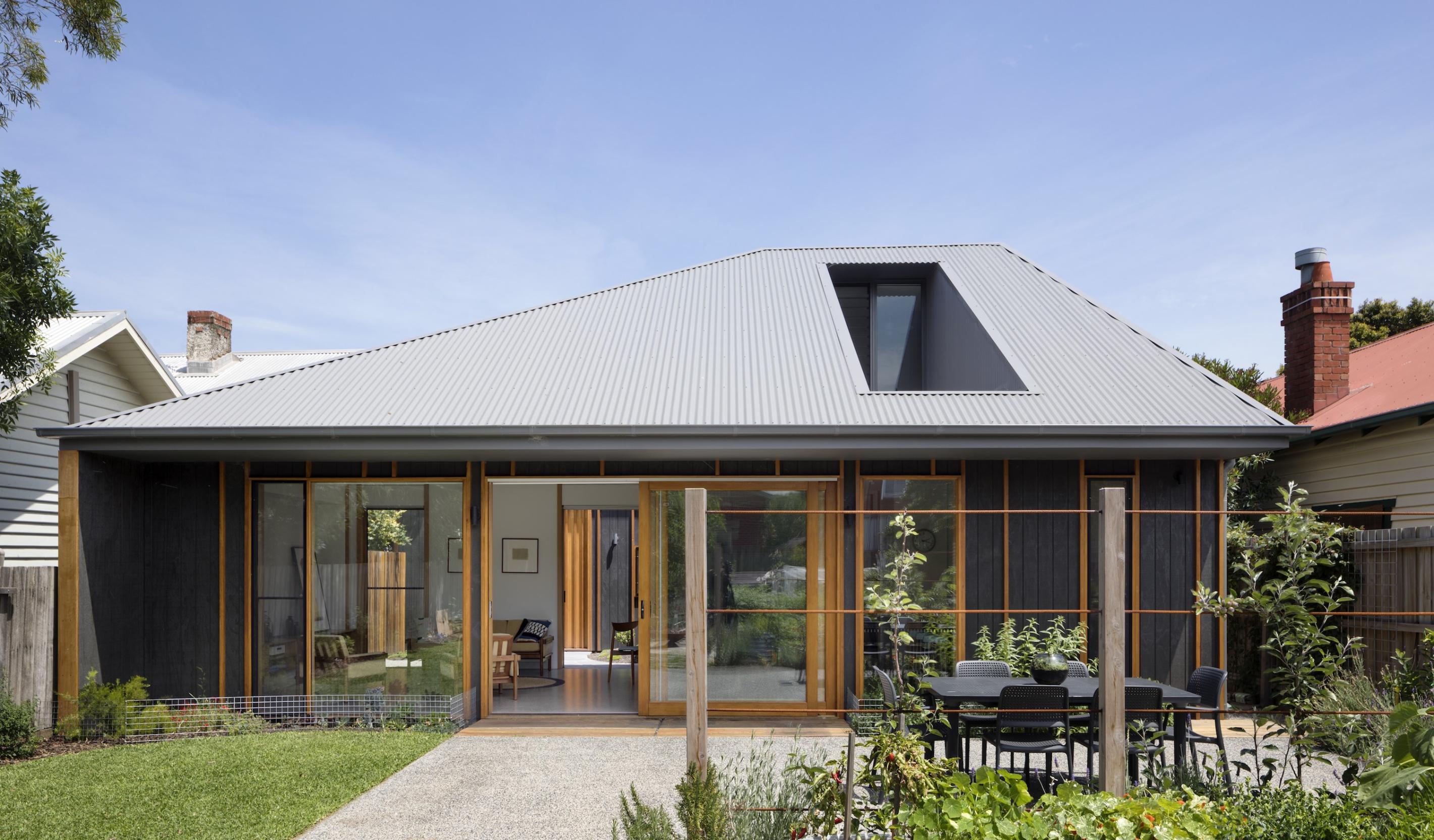 CAPTION: COLORBOND® steel roof in Wallaby®
Thornbury House by Bent Architecture (pictured above) is a great example of how an architectural roofline can be further enhanced by the colour and material of the roofing and cladding. It also demonstrates how you can also use a contrasting material to highlight exterior openings such as protrusions around windows or detailing around skylights or other exterior openings. By using the material's colour and finish you can create lovely cut-outs that add to the exterior interest of the house.
The Belongil Whaling House in Byron Bay is situated with a reserve behind the house. The owner noticed that the reserve was a meeting ground for the local wallabies, so they chose to use COLORBOND® Ultra steel in the colour Wallaby® for the roof. The roof is also highly visible with many unusual angles, so a standing seam style profile was selected to showcase the architectural features. The warm timbers and lush surrounds mixed with the rustic whitewashed brick-throughout the entrance and home.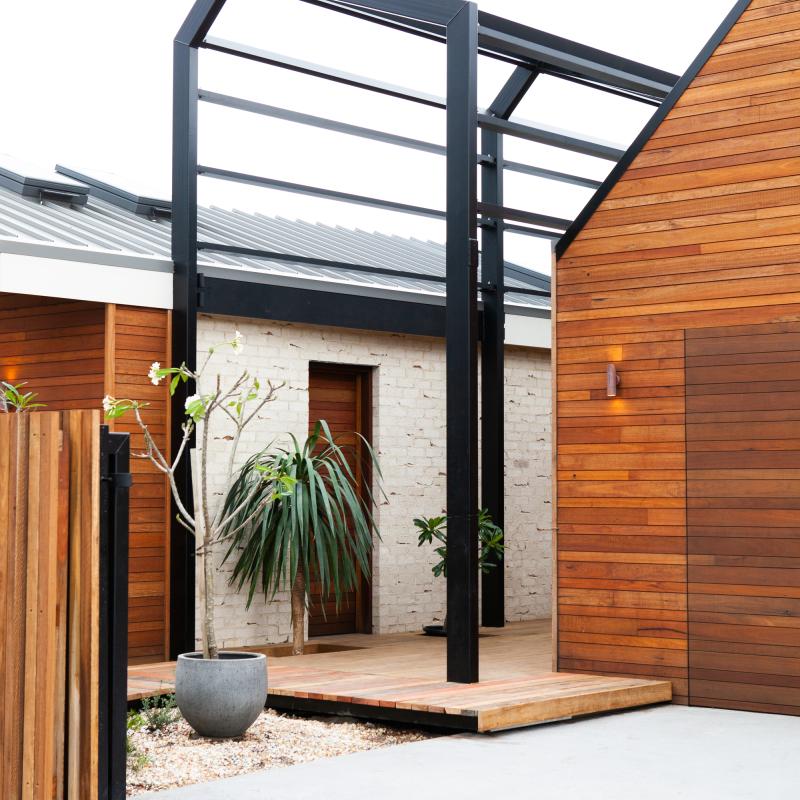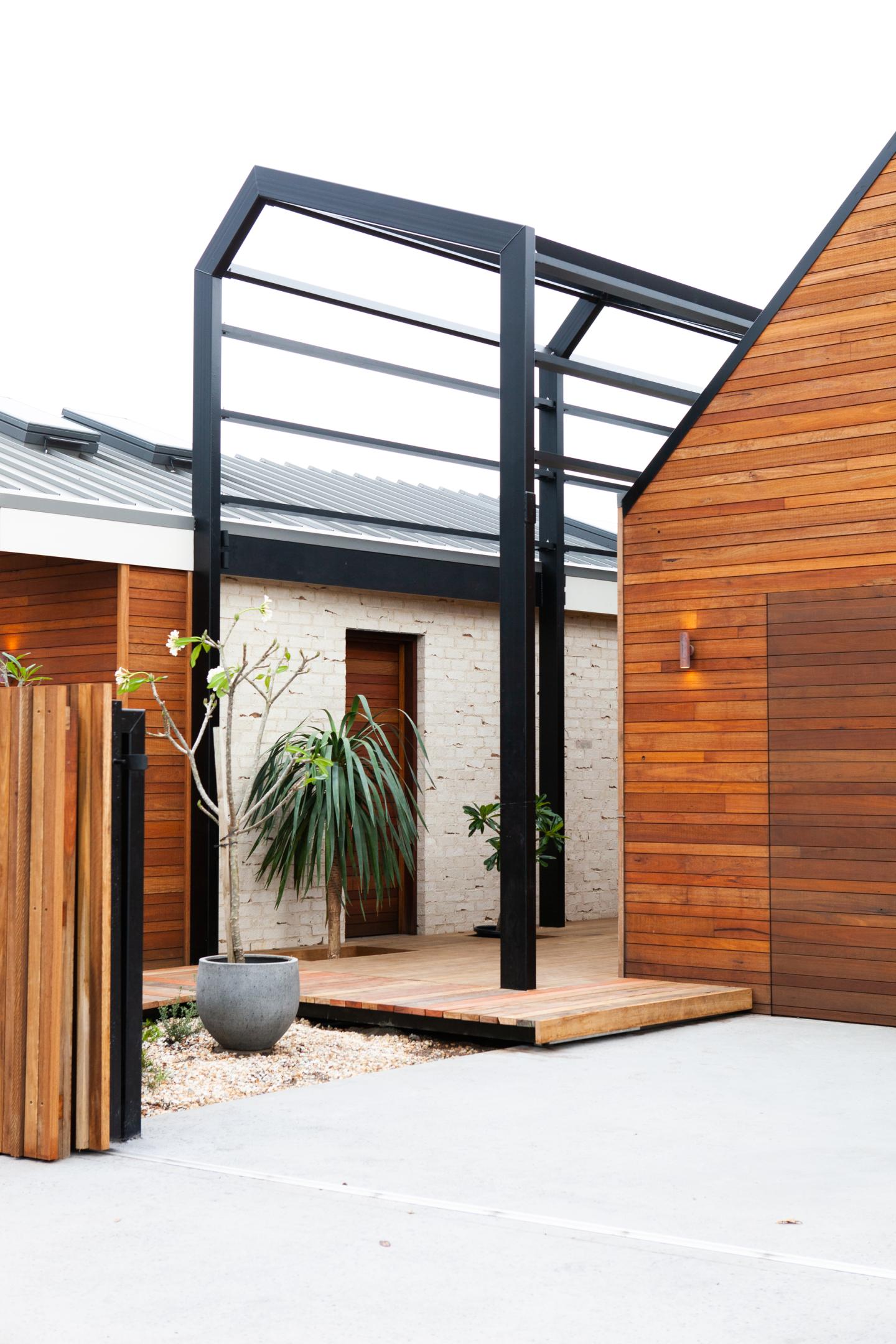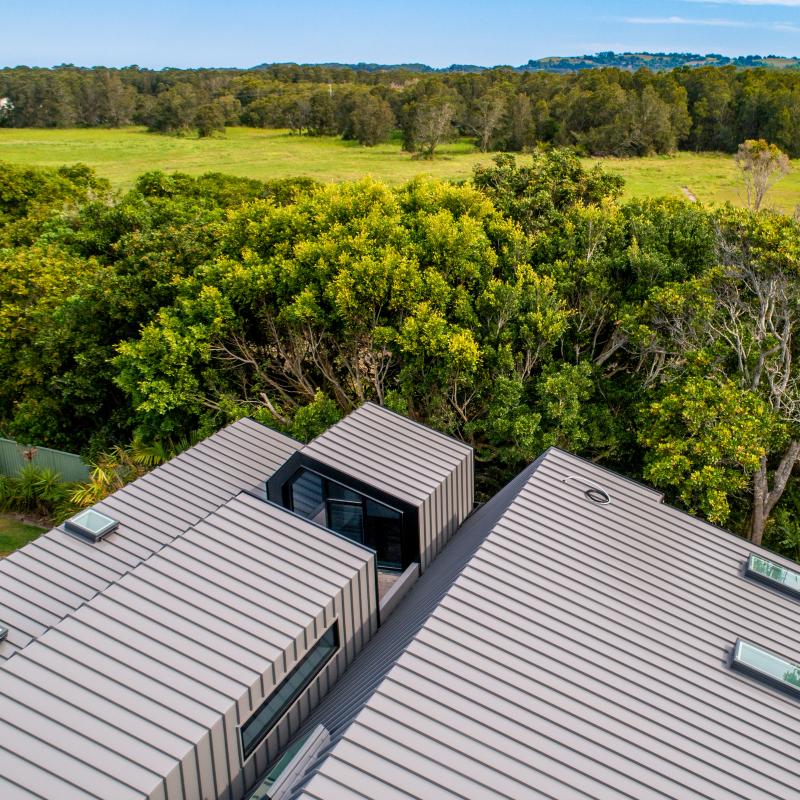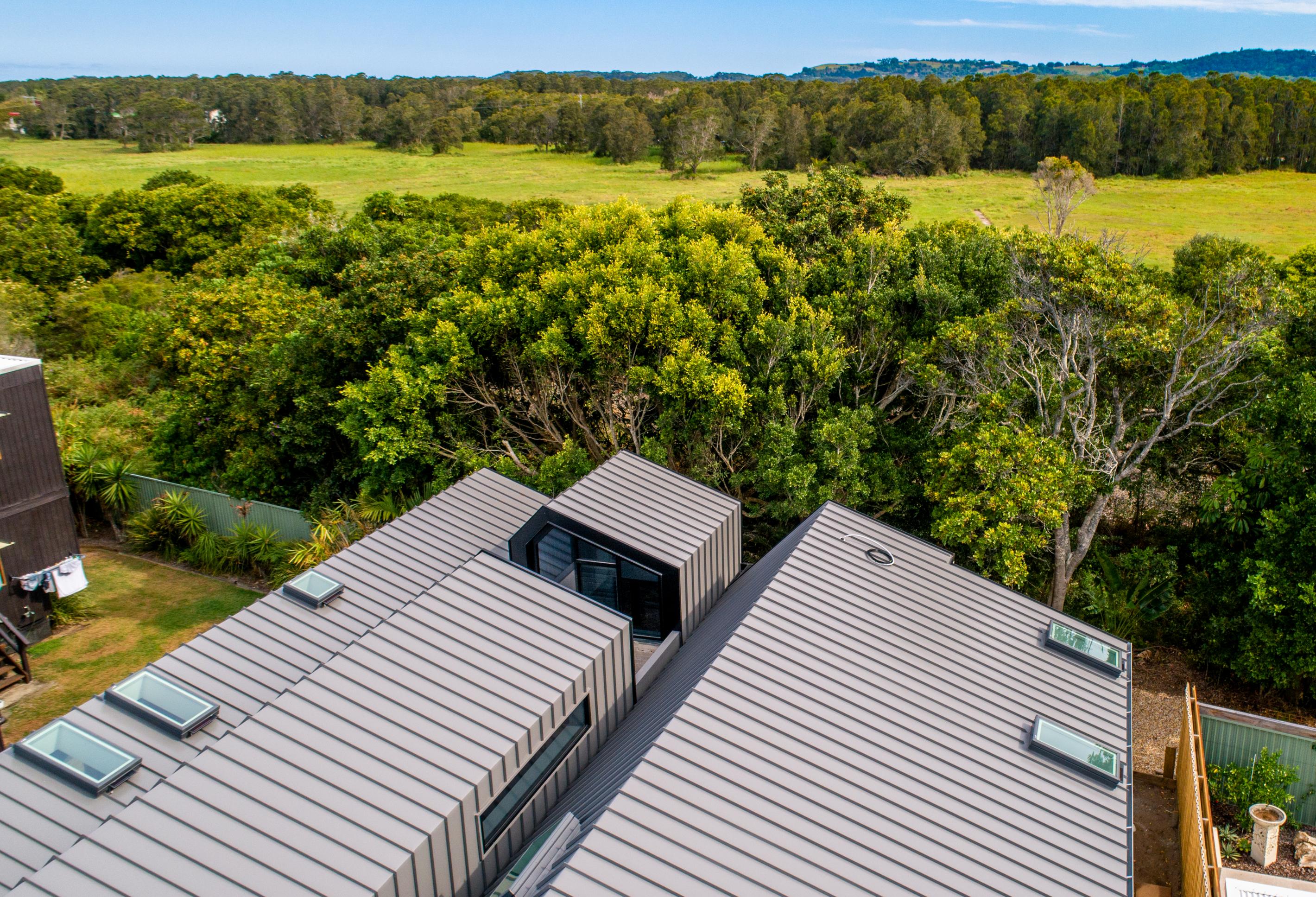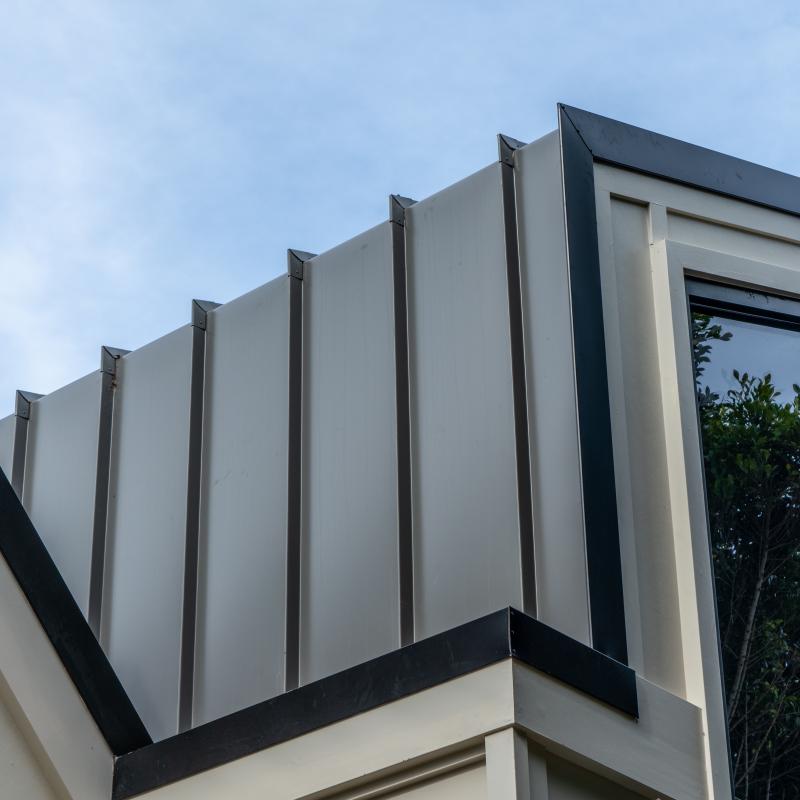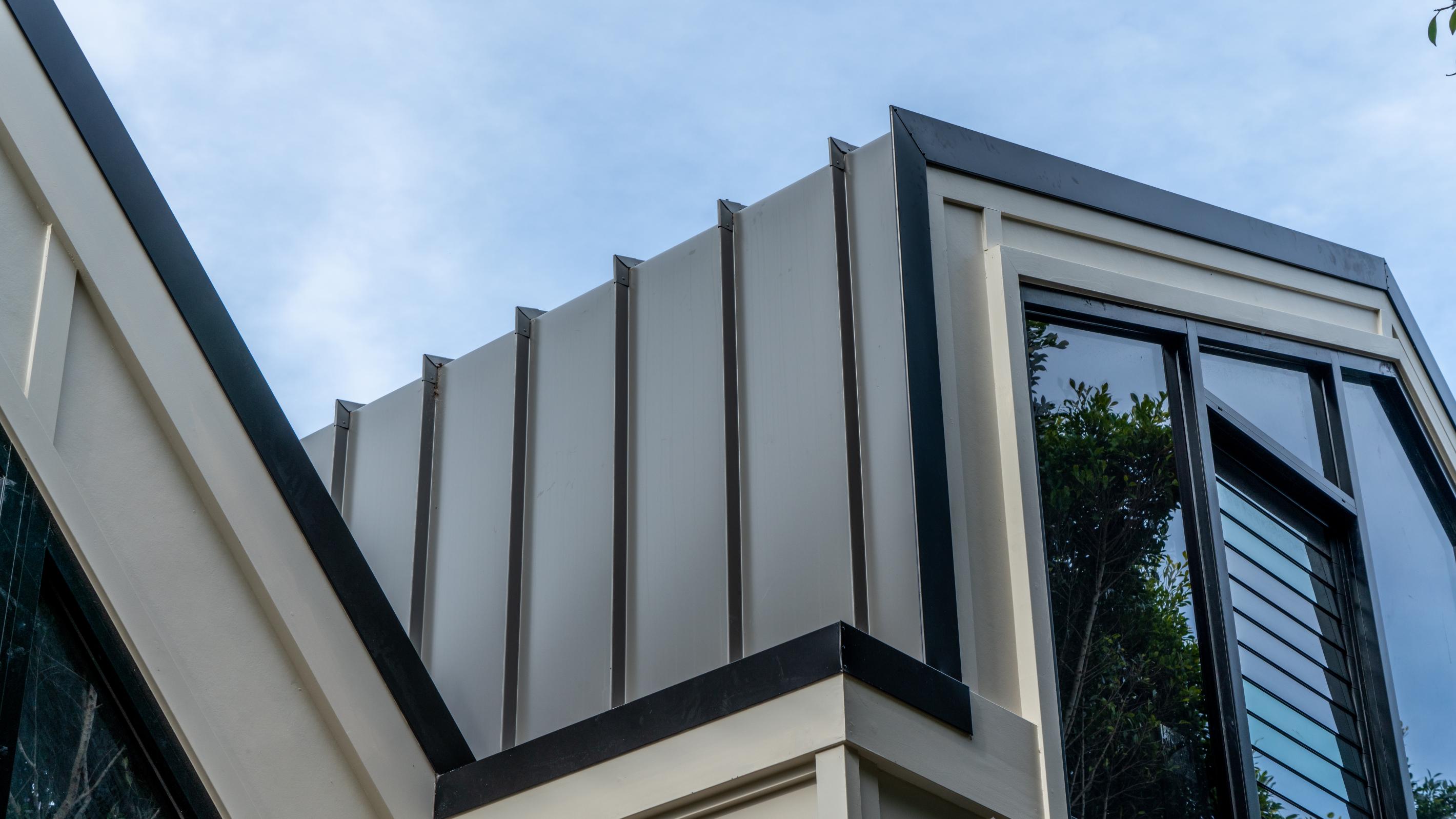 CAPTION: COLORBOND® Ultra steel in Wallaby®
Understanding what each material can do and the impact of things such as light diffusion, colour, texture and, of course, the linear element and its direction, will provide you with the best possible framework to create the most dynamic, balanced and coherent exterior your home can possibly have. You can even combine the ingredients and repeat the linear story on to the decking or bring some of the colour, shape and texture inside to continue the story from the exterior to your interior. As always, gather your reference, see what works for you, and don't be afraid to express your own individuality outside your home, just as you do on the inside.
Credits
1. Middle Park Residence designed by Baldasso Cortese features COLORBOND® steel Monument® (cladding) and COLORBOND® steel Windspray® (roofing). A standing seam style profile was used on the cladding, and the roofing profile is LYSAGHT TRIMDEK®. Photo by Tom Blachford.
2. Fundamental House designed by Sandbox Studio features COLORBOND® steel Basalt® in a Snaplock profile. Photo by: Katherine Lu.
3. Arrow House designed by Mark Lam Architects features COLORBOND® steel Wallaby® in LYSAGHT SPANDEK® profile. Photo by: Sarah Louise.
4. Thornbury House designed by Bent Architecture features COLORBOND® steel Wallaby® in LYSAGHT CUSTOM ORB® profile. Photos by Tatjana Plitt.
5. Hunter Valley House designed by James Stockwell features COLORBOND® Metallic steel in the colour Axis®, in Stramit Longspan® profile. Photo by Patrick Bingham-Hall; Paul Bradshaw.
Explore more from Darren Palmer